Goldie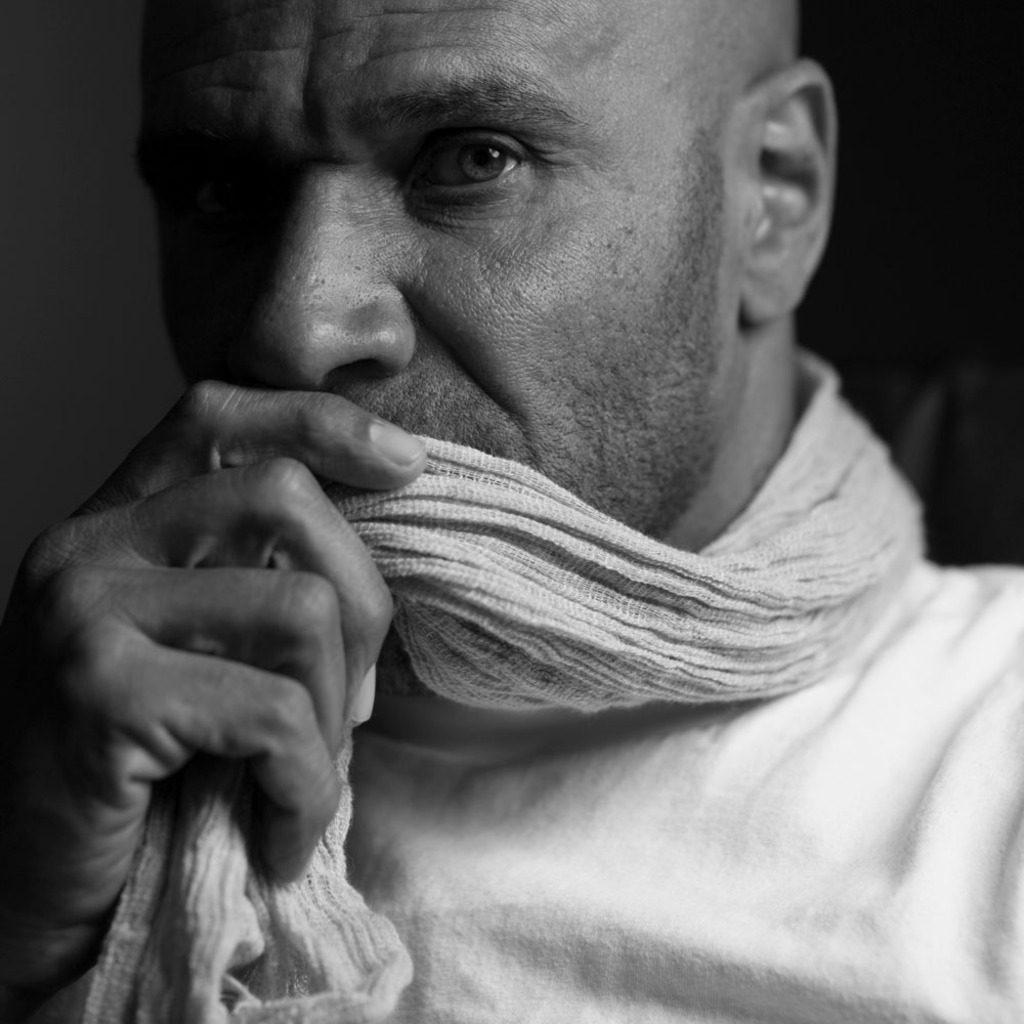 "In my music," says Goldie, "is everything I've learned, everyone I've met, everything I've experienced." And it's been an incredible trip. The maverick innovator – who rewrote the future of the jungle scene with landmark releases that still sound like they were kidnapped from tomorrow – has a unique story to tell. From children's homes in the West Midlands through stints in New York and Miami as one of the UK's most celebrated exponents of graffiti art to rubbing shoulders with an exceptional list of musical collaborators including David Bowie, Noel Gallagher and KRS-One, Goldie has defiantly, definitively, done it his own way.
"I'm an alchemist," he likes to insist. "I practice the dark arts of messing with the form of something solid."
Though marriage and his passion for bikram yoga have, he says, proved a calming influence, these days he's just as full of inspired, out-there ideas as he was back in 1993 when he did his first cover interview for the rave magazine Generator. "My music is about fallout," he said then, "about the damage that has been done to the system." Today, in the office of one of his London-based contacts, the ideas are still sparking. "Drum'n'bass has done to electronic music what graffiti has done to the art world," he muses, before launching into a rapid-fire synthesis of art history, dancefloor evolution and his own hyperactive brand of self-actualization, which loosely translates as: "Why do something ordinary when you can do something extraordinary?"
It sums up the reason why, in 1994, music critic Simon Reynolds famously observed: "Goldie revolutionised jungle not once but three times. First there was Terminator (pioneering the use of time stretching), then Angel (fusing Diane Charlemagne's live vocal with David Byrne/Brian Eno samples to prove that hardcore could be more conventionally musical), now there's Timeless, a 22-minute hardcore symphony." Each of these were moments that shaped the musical fabric of the decade and beyond, presaging Goldie's transition from the underground rave scene into the world of bona fide A- list superstars.
But it didn't start out like that. The boy who would become Goldie was born Clifford Price on 19 September 1965, just as The Rolling Stones hit the top of the charts with Satisfaction. His dad Clement, originally from Jamaica, had been plying his trade as a foundryman in Leeds. His mum Margaret, who had been born in Glasgow, was a popular singer in the pubs and clubs of the West Midlands. Barely more than a toddler, Goldie was just three when she placed him into foster care (though she kept his younger brother Melvin). He still remembers, he says, the day the social workers came to take him away.
Over the next 15 years, he bounced between a series of foster homes and local government institutions around the Walsall area. His eclectic musical taste was forged, he reckons, in those same local authority homes listening to the sonic tangle of other teenagers' record collections. "In one room," he says, "a kid would be playing Steel Pulse while through the wall someone else had a Japan record on and another guy would be spinning Human League." On rare visits to see his dad, he'd lie sprawled over the living room couch, listening to Jazz FM, marvelling at the lavishly-tooled '80s productions of Miles Davis, Pat Metheny, David Sanborn and Michael Franks, adding further layers to his complex musicography.
Already developing the irresistible urge to excel that has marked his inimitable musical career, Goldie's first love was roller-hockey. He earned a place as goalkeeper in England's national squad before the lure of music overtook the lure of sport. After discovering electro and hip hop, he grew his hair – the "goldilocks" that won him his nickname – and joined a breakdance crew called the B-Boys in nearby Wolverhampton. He also discovered graffiti. "They called me 'the spraycan king of the Midlands'," he says proudly. His talent was undeniable, bringing him to the attention not only of Britain's Arts Council but to Dick Fontaine, producer of a Channel 4 TV documentary on graffiti. Fontaine's 1987 film Bombin' captured a visit to the UK by New York artist Brim Fuentes. Brim met Goldie and his B-Boys crew in Wolverhampton's Heathtown before heading a dozen miles away to Birmingham's Handsworth, where the producer filmed the aftermath of rioting that had left four dead, 35 injured and dozens of stores burned out. Several months later, Fontaine reversed the process and took Goldie to New York, introducing him to hip hop pioneer Afrika Bambaataa. For Goldie, on his first trip abroad, never mind his first trip over the Atlantic, the Big Apple was love at first sight. Back in Britain, he begged, borrowed and saved until he had enough to fund a return trip to the Bronx.
"I started painting the trains and getting involved on the streets," he says, remembering his total immersion in what was still, at that point, an emerging culture. Art and music as symbiotic technologies. Rubbing shoulders with the Big Apple's best graffiti artists, his own distinctive style was accelerated and enriched. A move to Miami followed. He worked in the flea markets, he says, "painting trucks for drug dealers" and developing a sideline in gold jewellery that included the distinctive grills that became a trademark on his return to the UK. The magical properties of shaping, working and bending precious metals to his will – as close to alchemy as the modern world gets – became an analogue for the way he prefers to operate in the studio, chasing quicksilver dreams, mercury-fast rivulets of imagination into impossibly lush, breakbeat concertos.
Back in Britain, Goldie found himself seduced by the sweet heart of the rave. Though it took him eight attempts to get entry into the club, at London's Rage in 1991 he marvelled at the alternate sonic worlds being forged by Fabio and Grooverider behind the decks. "It really flipped me out," he remembers. Soon he found himself in the orbit of Dego McFarlane and Mark Clair. Their label Reinforced was in the vanguard of breakbeat, issuing astonishing records that stripped out boundaries and limits while setting the tone for the scene's sense of adventure. At first he helped out doing artwork and a bit of A&R. But soon he was in Reinforced's Internal Affairs studio watching intently as Mark and Dego recorded tracks like Cookin' Up Ya Brain and Journey From The Light. "I was watching what they could do," says Goldie, "trying to gauge the possibilities of the technology." Soon he was getting involved. "I remember one session we did that lasted over three days," he says, "just experimenting, pushing the technology to its limits. We'd come up with mad ideas and then try to create them. We were sampling from ourselves and then resampling, twisting sounds around and pushing them into all sorts of places."
What followed was a series of inspired break-driven releases such as Killa Muffin, Dark Rider and Menace. Then Terminator, with its writhing drum loop, dropped and suddenly Goldie's name was on everyone's lips. He followed up with the equally revolutionary Angel, tilting the axis towards the lush, trippy textures that made 1995's debut album Timeless the drum'n'bass scene's first platinum album. Incredibly, given what was happening elsewhere in the scene at the time, the recording of the album's epic title track began as far back as 1993, when most other producers were still focused on the original sonic tropes of hardcore rave.
Timeless was a masterpiece – of production, of songwriting, of sonic perfection and breakbeat futurism. Even today, it still sounds as astonishingly new and inspired as it did back on those early pre-release cassettes circulated by London Records in the early months of 1995, when Goldie was still living on the 18th floor of a North London tower block.
By then, Goldie had already set up his own record label – Metalheadz – with his friends the DJ duo Kemistry and Storm. Along with studio collaborator Rob Playford's Moving Shadow and LTJ Bukem's Looking Good imprint, Metalheadz helped to define drum'n'bass as a distinct musical format with singles by J Majik, Asylum and Goldie himself. Still bursting with energy, he then launched a legendary club night, Metalheadz Sunday Sessions, at London's Blue Note. The scene's best producers – among them revolutionary artists like Photek, Source Direct, Peshay and Dillinja – would compete to have their latest recordings debuted at the club and the scene's faithful came from far and wide to hear the best tunes before anyone else. "Those nights at the Blue Note were magical," he recalls. "It was an underground phenomenon that became an institution." David Bowie, who was making the drum'n'bass-influenced album Earthling at the time, fell in love with the place. "I remember popping out to take a break from all the madness inside the club," says Goldie. "He was outside having a cigarette, a bit of a breather. We chatted for a bit, looked at each other, grinned and then plunged back into it all. It was just that kind of place."
Goldie is one of only a handful of artists ever to co-write with Bowie – on the track Truth from the drum'n'bass pioneer's second album Saturnz Return. Released in 1998, the album also saw his vision become more expansive (the opening track, Mother, clocked in at just over an hour). The album's collaborative approach included guest spots from rap legend KRS-One, Sex Pistols manager and all-round provocateur Malcolm McLaren, super-producer Trevor Horn and Oasis mainman Noel Gallagher (on the single Temper Temper).
Fuelled by the limitless creativity that has been the hallmark of his career to date, Goldie next turned to acting. He reunited with Bowie in Andrew Goth's 1999 thriller Everybody Loves Sunshine then took the part of Bullion in the 1999 James Bond movie The World Is Not Enough. Other box office smashes – including Guy Ritchie's crime heist caper Snatch – followed before he joined the cast of BBC1 soap opera EastEnders, playing the gangster Angel Hudson.
A series of blockbuster TV appearances – on shows such as Maestro (where he learned to conduct an orchestra), Classic Goldie (which saw him perform his own orchestral composition at the Royal Albert Hall in the summer of 2009) and Goldie's Band: By Royal Appointment.
The orchestral training proved useful. In 2014, he translated his original vision for Timeless into the stunning Timeless (Sine Tempore). Performed live with the Heritage Orchestra at the Wilderness Festival to suitably rapturous acclaim, the performance was repeated the following year as part of the Meltdown Festival at London's Royal Festival Hall. In between, he found time to unveil Fragments Of Gold, a piece inspired by mediaeval chants that he performed live in Glasgow Cathedral.
Drum'n'bass, of course, has remained a consistent passion, both through his Metalheadz label and his releases under the Rufige Kru moniker (2007's Malice In Wonderland and 2009's Memoirs Of An Afterlife). "Technologically," he says, "breakbeat has managed to surpass all other forms of music to date. There isn't a recording engineer alive who can tell me there's any other form of music that is more complex than the music we make."
Goldie has also recently announced he will be releasing a brand new double album 'The Journey Man' this year. The album comprises two parts, 16 brand new tracks in total, all written and produced by Goldie. It also features a host of collaborators handpicked by Goldie to help realise his vision for the album.
"I often look at music not so much as a producer but like a director. You're drawing together engineers, performers and arrangers to create something special, something magical. It's like alchemy. The notes, the music, the lyrics, they're all in my head and each element has to be communicated and brought to life to create the finished track. I'm always inspired by great movie directors – people like Stanley Kubrick and PT Anderson – and, if you think about it, it's quite a similar approach. They start off with a vision and then they use that vision to deploy the actors and the cameramen and the editors in order to create the finished film."
Collaborators on 'The Journey Man' album include vocalist and songwriter Natalie Duncan, who was discovered when chosen in the three-part BBC series 'Goldie's Band By Royal Appointment' and later provided the vocals for Goldie's 2012 single 'Freedom'. Other featured vocalists on the album include Terri Walker, Tyler Lee Daly, Natalie Williams, José James, Naomi Pryor as well as Goldie's wife, Mika Wassenaar Price.
'The Journey Man' will be released through Cooking Vinyl and Goldie's own record label, Metalheadz.
Goldie's love affair with painting has remained consistent too and he continues to exhibit visual work that's just as dazzling as his sonic output. Beginning with Night Writers, the 1986 exhibition at Wolverhampton's art gallery that introduced Goldie and his Supreme Graffiti Team to the British Arts Council, his shows have defined a unique aesthetic that's all his own. And through them all, from 1987's Rockin' The City in Birmingham (where he exhibited alongside Massive Attack's Robert Del Naja) and the 1988 Crucial Creators exhibition in Walsall to more recent gallery events like 2007's Love Over Gold and 2012's Athleticizm collection (including portraits of London Olympics stars such as Victoria Pendleton, Tom Daley and Jessica Ennis), runs a consistent thread of energy, experimentalism and boundary-pushing. His 2013 collection, Lost Tribes, an innovative series of pieces fusing Goldie's style with the artistic expression of the ancient peoples of Africa, Asia and America was, he says, "my most important breakthrough".
And for the kid who lay awake, gazing at the stars, through the window of a children's home, growing up has brought some surprises. In 2012, he was selected as one of the BBC's New Elizabethans, 60 people – ranging from David Hockney to Roald Dahl, David Bowie and Tim Berners-Lee – who have helped shape British culture during the reign of Elizabeth II. Four years later, he was awarded the MBE in the Queen's New Year Honours. It's acceptance, of course, on a grand scale. But at heart, he's still the gatecrasher, amped-up on ideas, buzzing on nothing but love, hope and the certainty that, while his way might not be the easy way, it's very definitely the path of a true artist.
© Tim Barr – 2017